Uncertainty and time-profligacy in generating reports for ground movement and subsidence causes multiple industries headaches. You need a solution that can highlight ground movement down to millimetre precision instantly. Our solution maps direction, and velocities in near real time using a colour coded blue and red matrix helping you quickly and confidently identify ground movement in any industry.
Oil and Gas remains one of the largest and most profitable sectors. They are always advancing their technology use and have been using InSAR data for years. Due to the previously high-cost barriers, satellite imagery was not accessible to many sectors and was only used within those billion-dollar turnover firms. However, we understand that this type of data is crucial and needs to be accessible to all geotechnical engineers
InSAR, or interferometric synthetic aperture radar is an efficient way to measure changes in land surface altitude. It can provide clearer insight into ground movement helping you develop accurate data-driven reports quicker and easier.
We are bringing this innovative, industry-defining tool to the masses. We are democratising the market and granting geotechnical engineers of all industries a chance to compile reports of the highest accuracy in less time. Our offering consists of pre-processed ground movement data refined by our unique algorithms.
Upgrading Geotechnical Engineers
The use of InSAR data can dramatically improve efficiency and consistency within the three stages of reporting for geotechnical engineers. The primary stage of data collection and analysis, known as desk research, is made difficult by having to analyse reels of historical maps to generate insight for reports.
Our offering can help you streamline this stage with data that tracks ground movements in the long term, back to five years, whilst also providing up-to-date, millimetre-precise information, potentially reducing time spent on this stage by days. We can provide expert analysis alongside our detailed ground movement maps, giving you insight into ground movements and what they may signal. For example, we can give you greater certainty to questions raised under the implication of ground movement by mines. We can provide evidence to help determine whether historical mines have caused modern-day movement.
Our InSAR data can be used to refine physical site visits, by assisting experts in identifying exactly where boreholes are needed. It does this by identifying
seasonal signals, transient events, and steady motion.
Our carefully developed 'SRISK' metrics clearly highlights areas where significant movements are present. Our analysis of the InSAR data shows the map as red or blue to demonstrate the direction and velocity of movement.
Requests for further information are an ever-present risk when submitting reports to local planning authorities, and involves additional project hours, research and reporting. To increase the chances of approval, you can use our InSAR data to collate highly evidenced reports which include direct observations of ground movements. Thus, allowing you to develop more detail-led, insight-driven reports to minimise the risk of delay and unnecessary additional work.
Lifting Limitations
Our InSAR data comes directly from reflections picked up by state-of-the-art technology such as the Sentinel-1 satellites in their polar orbits. The information is immediately available nationwide and can be provided globally on request. These data can be used to advise on ground movements and identify risk of potential harmful movements in specific property locations, or on large-scale developments.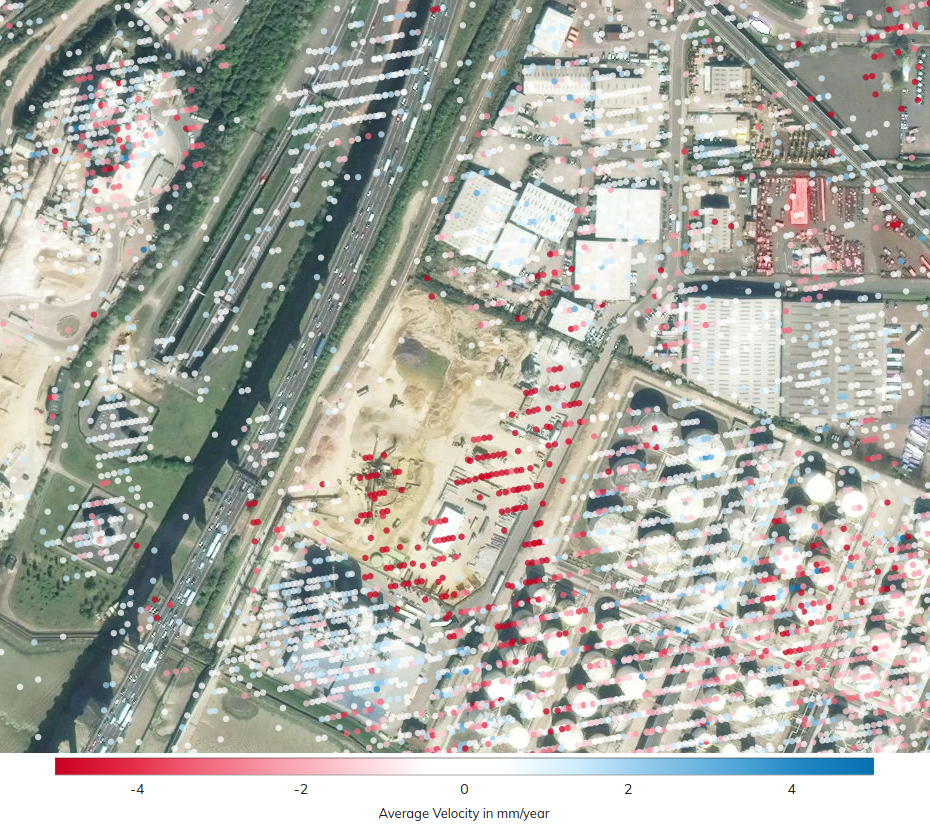 Property
When using traditional property surveying tools, experts are restricted to relying on limited data sets which often force insurers, or surveyors, to spend more time collating reports and examining sites to get the complete picture. Our offering helps lift some of these limitations and allows you to speed up the surveying process and deliver results more cost-effectively.
A useful application of our data is with surveyors to determine if a property is at increased risk of subsidence before a sale. Similarly, with loss adjusters and insurers, who use the service to help understand timing and status of property damage in the face of a claim. We provide information that can help determine the history of subsidence on a property, monitor whether any potential remediation works are successful, and if subsidence has abated. This allows professionals to assess all available evidence and determine the smartest course of action.
Infrastructure
Context is incredibly useful to the infrastructure sector, for example, railway line construction on a nationwide scale would involve multiple sites and each one would influence planning and execution. Subsidence is one section of the development that would dramatically affect plans for the entire project. InSAR data can aid engineers in identifying subsidence, without the need for extensive site visits.
Even after construction is complete, infrastructure companies are still required to monitor subsidence routinely to identify risk. Infrastructure engineering has high failure parameters; rail and motorway construction depend on the ground beneath being stable and reliable. They have a strict subsidence tolerance, any changes beyond the allocated limit would call for serious remediation work to be completed to fix the issue.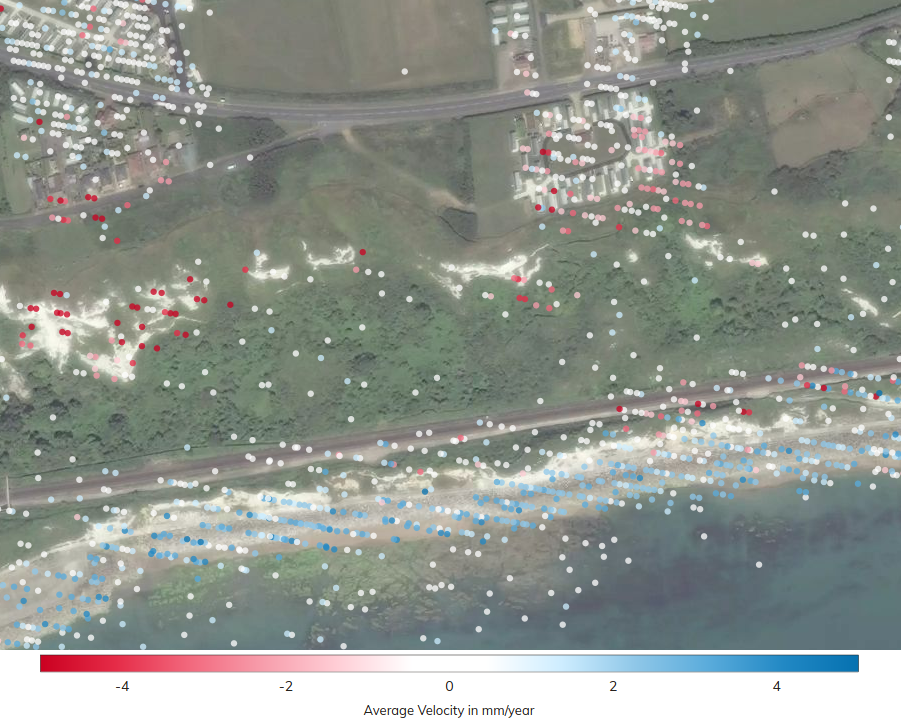 Utilities
Dam building needs to be incredibly robust; it serves the community and without safety considerations, lives are put at risk. Geotechnical engineers need tools with the best possible measurement density to be able to produce comprehensive reports on ground conditions - allowing effective monitoring and decision making.
Consultants and engineers have the chance to access superior data, with greater measurement density than possible using standard InSAR techniques. In addition to this, our data is pre-processed and available almost instantly - giving you the best chance of using the right data, when you need it.
With our widely accessible InSAR data, we allow a broad range of industries access to a tool that can help reduce time and costs, and execute more effective monitoring methods.
Get in touch
with our team to discuss opportunities for your engineers.